HAMRADIO


Velkommen til
ARCTICPEAK's RADIO SIDE!
Welcome to ARCTICPEAK's radio page!
Please scroll down for my English pages.

SIDER PÅ NORSK:
LA8OKA Galdhøpiggen 2469 moh 5-6 august 2006.
Jeg har skrevet anmeldelser av et lite antall radioer, disse kan man lese her.
Halvbølgedipolen - Dens oppførsel i fritt rom og over jord.
Invertert V - Analyse av en halvbølgedipol for 20 m.
Ny som radioamatør? Hva slags radioamatørutstyr skal man skaffe seg?
En full-size 80 m Dipol for trange steder.
Portabel 3 elements trådyagi for 2 m.
Yagi antenne kalkulator. Lag din egen YAGI antenne!!
Data for de mest brukte koaksialkablene.
Oversikt over de vanligste koaksialpluggene.
Regn ut radiohorisonten.
Formelark for radioamatører.
(Kun de mest brukte formlene.)
Automatisk kalkulasjon av overharmoniske frekvenser.
Retur tap - VSWR - Refleksjons koeffisient
En innføring i antenneteknikk. (PDF)
Overstyring og høyfrekvensinnslag i elektroniske apparater. (PDF)
Sikkerhetsproblemer i forbindelse med oppbygging og drift av radioamatørstasjoner. (PDF)
Hvordan beskytte radioutstyret mot lynnedslag og statisk elektrisitet.
Brukerveiledning for Radio Mobile.
Post- og Teletilsynets punkt til punkt kalkulator.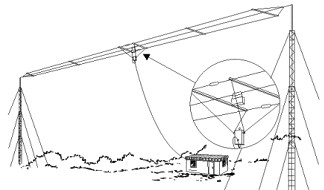 PAGES IN ENGLISH:
LA8OKA on Galdhøpiggen, Norways highest peak 2469 masl 5-6 August 2006.
KENWOOD TS-2000 IF Output modification.
ICOM IC-707 Mediumwave sensitivity improvement.
Match your antenna with The Single Stub Match, using this Single Stub Match Calculator!
Log Periodic Dipole Array Calculator.
Build your own LPDA!
Construction of air insulated transmission lines.
A guide to the radio spectrum below 30 MHz.
ACARS and VDL Mode 2 frequency list.
My radio equipment!
LA8OKA's Corner Fed Delta Loop.
Calculation of EIRP and ERP.
Calculate intermodulation products from 2 and 3 frequencies.
Transmission loss calculator for transmission lines with SWR.
This page was last updated 13.05.17